Entertainment
Entertainment -
Angels
Written by Bless Bey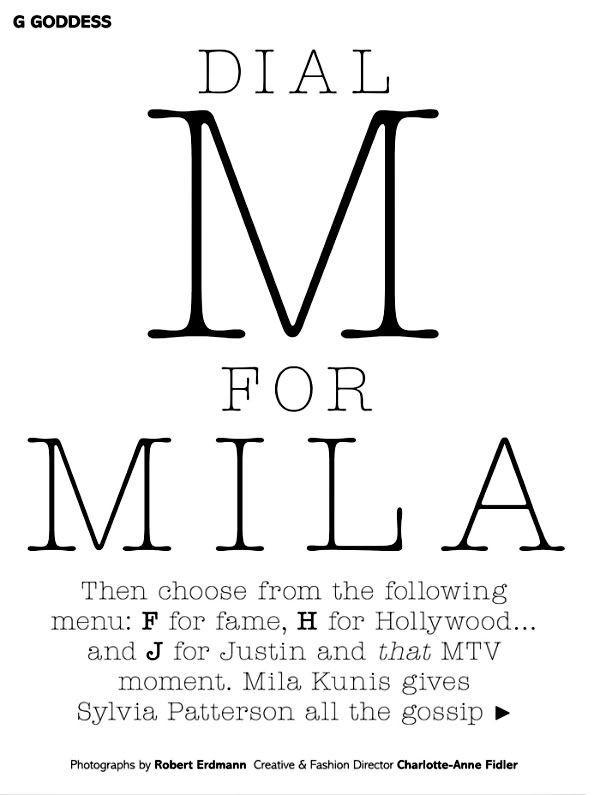 Mila Kunis has a legion of fans that should take a gander at her Glamour UK spread. Photographed by Robert Erdmann and styled by Charlotte-Anne Fidler, the actress rocks a sexy retro look. I kind of like that sweater dress.
See More Mila
Entertainment -
News
Written by Bless Bey
HTM Featured Angels Susana Ruiz, Tehmeena Afzal and Jessenia Vice joined Celebrity Chef Micheal Giletto for the taping of the first episode of Bad Girl University's "Look Who's Cooking". The three sexy ladies will be taught how to make a 5 star dish then compete to see who makes it the best. Shot at the Ocean Place Resort and Spa, each of the ladies dishes will be judged by Celebrity Chef George Krytatas. Season finale will include a bonfire beach party, a final challenge and the crowning of the "Look Who's Cooking" 2011 Champion.
Read more...
Entertainment -
Music
Jay-Z and Kanye West confirmed the rumors of the impending release of the highly anticipated "Watch the Throne album by revealing the album cover which was designed by Riccardo Tisci,creative director of Givenchy.
Read more...
Entertainment -
News
Chances are you are familiar with Sasha Grey's "work",but you probably don't know everything about the porn star turned actress. What you also probably didn't know Sasha Grey had an interest in photography. She has documented her life through photography and created a book titled,Neu Sex. The book takes you behind the scenes of her daily life. While we aren't talking Annie Leibovitz quality art here,we are talking about pulling back the curtain on a seemingly exclusive industry. If you are looking for a fine collection of personal shots of Sasha Grey order yourself a copy at Amazon.
Read more...
Entertainment -
News
Written by Bless Bey
Prada Menswear has selected actor Tobey Maguire to star in their new fall campaign. Some have not been to supportive of this choice but admit the campaign looks good so far.
Read more...
<< Start < Prev 1 2 3 4 5

6

7 Next > End >>


Page 6 of 7
We have 661 guests online