Angels -
Interviews
Written by Khalid "Bless" Bey | Editor in Chief | As Seen in NY Times Bestseller: Rat Bastards
"I am actually a superhero," says the girl who could easily be some sort of exotic Wonder Woman, "and I am here to save the day [laughs]." Funny thing is, Thor happens to play valiantly across the flat-screen as these words make this interview. 'There is a hero if you look inside your heart', Mariah Carrey sings awkwardly in my mind as I focus on our latest angel. Superpowers aside, her beauty is otherworldly, wielding a power over all who comes in contact with her. She has the ability to turn an ugly day pretty, brighten up a dark moment, even tame savage impulses. Beautiful on the outside, I seek the beauty of her spirit, this interview acting as the roadmap. I look to find what lies in her heart, that which provides the spark in her eyes, tugs at the ends of her mouth forming a smile, colors her thoughts, powers her beauty.
"My name is Saven Mi", she says courageously. "I was born in Thailand and came to Canada when I was almost a year old." Here her story begins, touching on points like her Cambodian heritage, to where she lived till she was five and then on to where she eventually lived until adulthood. "I lived in Regina, Saskatchewan up until I was about five years old and then moved to Hamilton, Ontario where I grew up." Much to my surprise, she tells me she grew up acting like a boy. "I dressed like one, looked like one and had bad hygiene," confides the ex-tomboy, "I was picked on and nobody really liked me but I didn't care because I was addicted to Anime and video games." This persisted until she got to high school when she discovered her girl power, rebelled and became super-girly and outgoing which eventually brought her to modeling and Angels Playpen.
"I always wanted to be a model," she says of her start, "but never thought I had the looks or confidence." Because of her lack of confidence, Saven never took a chance with a modeling career until she met a model who guided her decision. "She brought me into the scene by introducing me to a photographer." Soon after their first shoot, she modeled at the at the2008 Sports Compact Performance car show in Montreal. "It was all an amazing experience for me so I continued on my own building a portfolio and searching for more gigs." Once she got a taste, she sought to follow on the footsteps of Tila Tequila. "Not just because of her beauty but her confidence, personality, attitude, intelligence and talent," expounds the model who once didn't believe in the power of her own beauty. "Despite what anyone says, I think she has many amazing accomplishment and has done very well for herself." Motivated to succeed Saven has her plans, working with men's magazines like Maxim, FHM and American Curves, though she admits to having a long road ahead of her. "I am determined to achieve my goals and turn my dreams into reality," she affirms. "I won't stop till I make it to the top."
Saven finds motivations in her supportive fans as well. "I love putting smiles on their faces and keeping them entertained," she says making me proud to be a fan. "I also want to be able to inspire others to follow their dreams like I did." I ask what treasure lies hidden within that gorgeous veneer, what gems rest undiscovered in that sexy frame by her fans. She confesses to not having any worldly talents like singing or dancing, but I imagine she possesses talents that transcend all earthly concern. "I am an ordinary girl who happens to be really passionate about modeling." Her claim to be just an ordinary girl slightly darkens my mood, I see her as anything but. "At the same time I'm really easy going," she says, "down to earth and I get along with everyone." See right there is an extraordinary talent; one she could probably bring about world peace with. Then she continues, "I am ambitious, open-minded and comfortable with just being my random, dorky self. I'm not a diva and I always avoid drama." It never fails to surprise her when people say how different she is from other models since she doesn't herself as anything special. She tries to respond to all her fans, knowing how much it means to them. "Despite my appearance I am definitely not a snob or princess, I don't think I'm all that."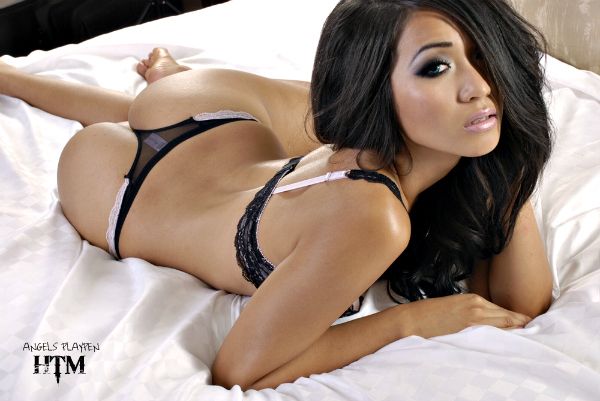 I'm amazed to learn she doesn't see herself as sexy, a remarkable thing indeed. "Me? Sexy? I wish," she declares. "To me beauty is in the eye of the beholder.  It can be anything and everything you are drawn to. With a person there is physical beauty, but also the kind that you find within the heart and soul." Somehow she is unaware of how sexy she is and this thought confounds me thoroughly. How could she not? She is obviously beautiful inside and out. Besides, guys are probably too intimidated to approach or act right when in her presence. She laughs at the idea anyone would be intimidated by her admitting she has no clue one way or the other. "I always seem to attract the wrong," she adds, "or maybe it's the way around."  I feel bad for her, her beauty possesses a quiet soulful charm, a seductive quality presently working its gradual magic over my senses. "I think the key to a good seduction is comfort," Saven explains. "Be yourself, relax, enjoy yourself and let it all flow naturally." I take heed to her words; minor instructions I value immensely. Funny thing is it's usually being myself that gets me into trouble in the first place. But my date in due course comes to realize I'm a good guy with lets say… a lot of personality.
Even while she downplays her sexiness, she has some idea of what is attractive about her.  "If it's based on my photos alone, I would say my hips are most liked," Saven ponders, "but I've been told the best thing about me is that I'm down to earth, laid back and drama free." Her understanding comes with knowledge that it's character that count, not how one looks. "Anyone can look good; it's the personality that stands out." And of course she is right. Nonetheless, for all time, whenever a gorgeous girl like Saven says this it doesn't sound the same. She is blessed to have a tremendous personality as well, which I uncovered with my excavation-like litany of questions.  And now… all I know is I don't care what she looks like personally, I honestly like her.  In another time and place, I see me becoming close to the personable powerful beauty. With so much personality between us, there would certainly be… skirmishes and I would no doubt attempt to win her over with a gift. "You can't bribe me with a gift," she escalates. "If you did something to make me upset, the best thing you could gift me is a genuine apology. I'll understand if you realize what you did was wrong so we can prevent it from happening again. Keep in mind," her tone changes, "I can forgive but never forget! Since we're so close I wouldn't want anything getting in the way, so lets move on… you can treat me to dinner or a fun activity to get my mind off it," she finishes with a laugh.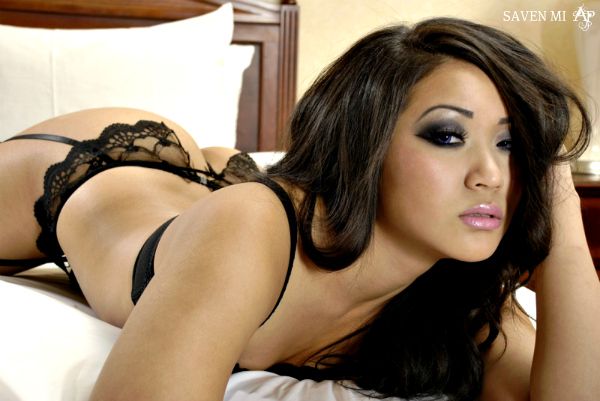 Saven's favorite place to eat in Hamilton, where she still lives, is a place oddly called August 8. The restaurant boasts "all day dim sum, sushi and amazing deserts." Apparently she likes the all you can eat style of restaurants. "I am passionate about all the amazing foods of the world," she says. "Why just have one dish when you can have all?" Other than August 8, what is it she loves about her town. "Hmmm… Me," she sounds off, "I'm in it. Well my family and friends too but the town itself doesn't have much going for it."  For the ideal weekend getaway she quickly chooses Hawaii, "It seems so beautiful, tropical and fun. My kind of paradise." Add in a sexy guy, me perhaps, and that's her heaven on earth. The only thing to truly ruin a date like that is simply not getting along or pure boredom. "A date should be fun and if it's painful to be there then it's just brutal." A brutal date is something that could never come to pass between, even if we're just friends. Could we ever be just friends? "Yeah of course," she answers, "as long as there is absolutely no romantic or sexual interest otherwise things will get messy and the friendship will end whether you like it or not." I would hope her to be wrong, knowing I would treasure her friendship as much as anything else.
Thoughts of spending the weekend with Saven briefly reside in my mind before vacating for more realistic consideration. When is she sexier, Friday in a sleek dress or Sunday morning in an oversized tee? "Those are two kinds of sexy," she tells me. "To me I would say Friday night in a black dress because I'm more confident with my appearance when I am all dolled up. But to a man, they are more simple and probably find the laid back, messy look to be sexier." Would she take advantage of me on Saturday night after a night of drinks and dancing and I lay unconscious, vulnerable to a sleep assault. She laughs before answering, "Yeah, sometimes it can't be helped, but that's one of the best things about having a man anyway!" Saven talks of what turns her on, affection, a sexy voice, romance, muscles and tattoos. Lying, being disrespectful, negativity, poor hygiene, closed-mindedness and men who are princesses are all turn offs. A guys overall appearance and mannerism are what she notices initially in any man. She is prone to blushing, so constant compliments will keep her cheeks flushed; something I wouldn't be able to help as I love to compliment a woman.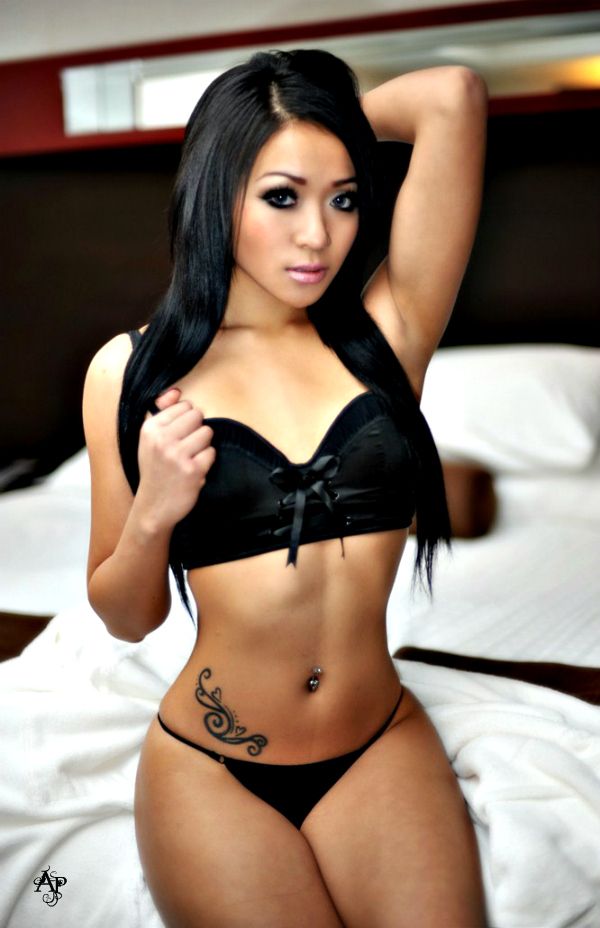 I find it easy to pay attention to the natural leader, something she attributes to being a Leo. "I can't stand being told what to do," she says with a laugh, "unless we're in bed."  Describing what else about her sign offers a glimpse into her character, she continues. "I'm also ambitious, courageous, dominant, strong-willed, warm-hearted, protective, and of course I enjoy the spotlight. They say as a fire sign, a Leo is a very passionate lover. It's all or nothing in their relationship and in bed. Yup, that's me [laughs]. Seriously though, when I love I love like there's no tomorrow and I will do all that I can to protect and defend my loved ones." She describes herself as sweet, silly and passionate and all three are evident in the angel before us. "My idea of an angel is a guardian spirit or guiding influence; a pure soul who brightens the earth and those around them," she says closely depicting her very self.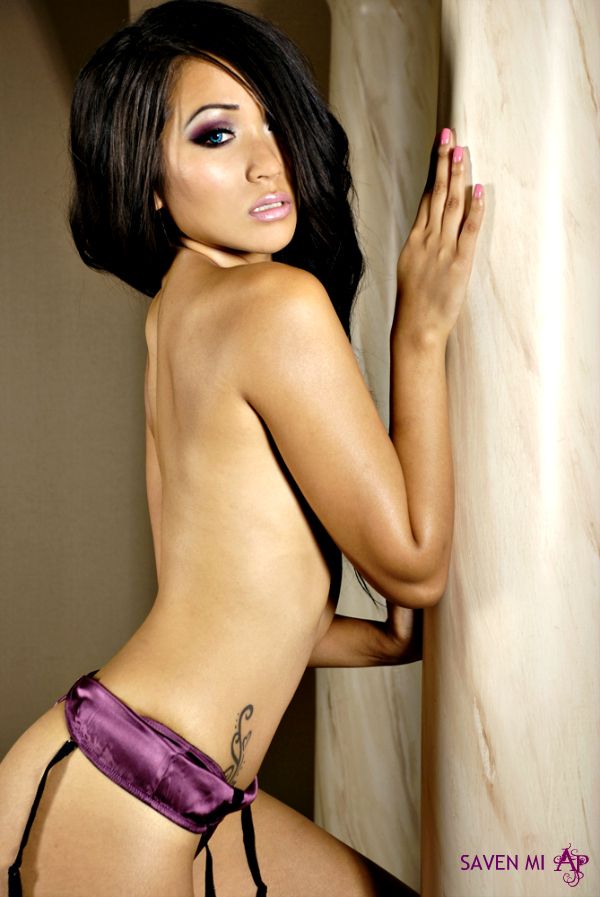 Official Website: http://www.savenmi.net
Facebook Page: http://www.facebook.com/savenmi
Twitter: http://www.twitter.com/savenmi
ModelMayhem: http://www.modelmayhem.com/SavenM
YouTube: http://www.youtube.com/savenmi