Angels -
Interviews
Written by Khalid "Bless" Bey | Editor in Chief | As Seen in NY Times Bestseller: Rat Bastards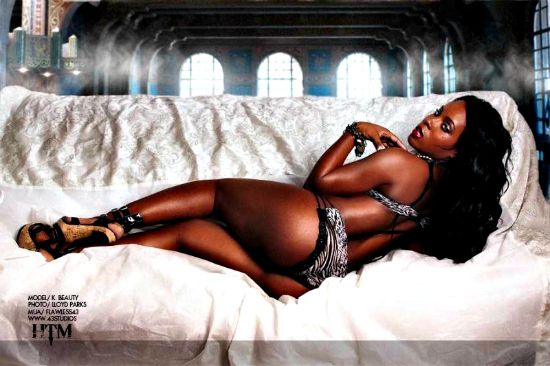 I have a thing for culture, something about it fascinates me. It does force me to pay more attention to people than occasionally I wish to. I've been learning to turn it on and off nowadays, entering various modes of thought based on circumstances. My circumstances these days are as such that I am afforded ample opportunity to interview these beautiful girls, discovering heaven along the way. Each angel has a distinct background, where culture is examined and appreciated, beauty is defined and heaven is sought. With us now is an angel, kissed by the sun as she descended, skin like dark chocolate milk. Her name is K. Beauti. Let's welcome her to Angels Playpen.
Her family is from Kingston, Jamaica though she was born and still lives in historic Philadelphia, 5th largest city in the U.S. in terms of population and also happens to be the city that birthed me. A little Indian adds to her already rich beauty. Living in Philadelphia, she says the best thing is "there is always a store nearby and great transportation."  The Philly bred model grew up unafraid to take on challenges admitting she was "very daring".
A humble Virgo, K. tells me her sign fits her perfectly. She laughs daily, finding joy in the simplest things. Her humility shows when I ask what the best compliment is she's ever received. "No compliment is better than any other in my eyes," she answers, "I'm grateful that I even get them." Grateful she is, I say she is deserving of it all. "Beauty comes [from] within first," she says, "because if you are bitter and mean it shows all over your face." She has admirers, male and female I'm sure. "I think the guys like my appearance and personality and I think the females admire that I'm not stuck up once they get to know me."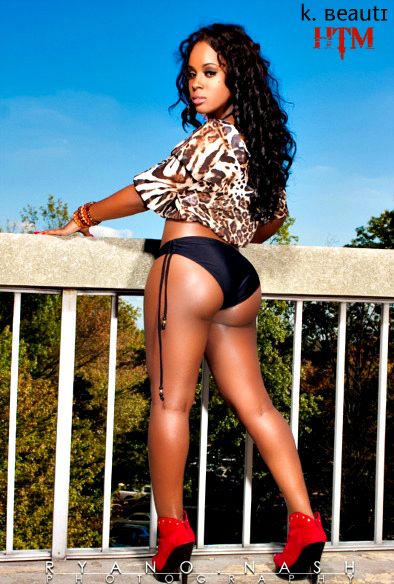 So many women have to work hard to be the sexy sirens we see, but not K. Beauti. "I honestly don't work out as much as I should," says the humble beauty. "I'm just naturally this way." Her appearance can prove intimidating for some guys, yet K. hasn't been the wiser. "If there is men out there like that, I haven't run into any yet." Like she said, she's not stuck up so you just have to get to know her kind of like we're doing now.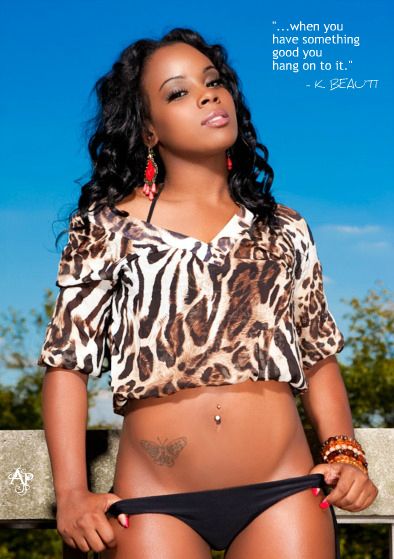 King of Prussia Mall, a shining example of contemporary self-indulgence in the suburbs of Philadelphia, is where K. likes to do her shopping. I can see her in cute jeans, fashionable jacket and heels, hitting her favorite shops, bags dangling off her arms like so many ornaments. When it comes to food, she is not so picky. "I love to eat anywhere as long as the menu has chicken and fish". And she can party anywhere as long as the "vibe is right". Being the generous type, I'd love to send her somewhere to escape, entering her personally paradise; her heaven on earth. "My heaven on earth is peace, love and happiness". The place she'd choose to experience this is symbolic of what's most important to her. "I would go to my roots, Jamaica," she says, "and lay up on the beach."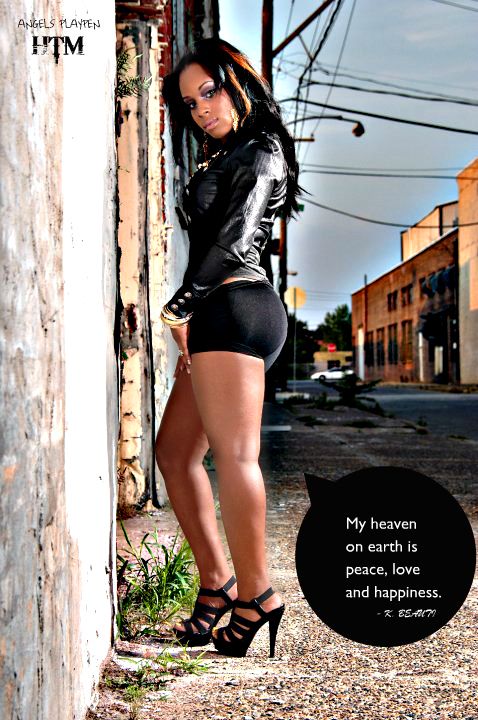 Love means different things to different people. "Seeing and feeling my child being born is an unforgettable moment of love," K. relays, "you finally get to meet the little one you've bonded with for nine months."  Loyalties also differ from person to person. "I'm loyal to my relationship," admits the chocolate angel, "because when you have something good, you hang on to it." Our motivations in life are equally disparate from individual to individual. "My daughter is my biggest motivation right now," she admits, "she's only four but she tries hard at everything she does." Like mother like daughter.
K. Beauti has had a passion for modeling ever since she was little. Today she aspires to work with companies that make it a habit of showcasing these sexy women in a positive light, sort of like us here at Angels Playpen. "Tyra banks is one of my big influences," K. explains, "she is such a beautiful person inside and out." Her dreams extend beyond the perceived glamorous world of modeling. "I would love to open my own store one day." A store where she would offer clothes, jewelry and shoes, things every woman loves.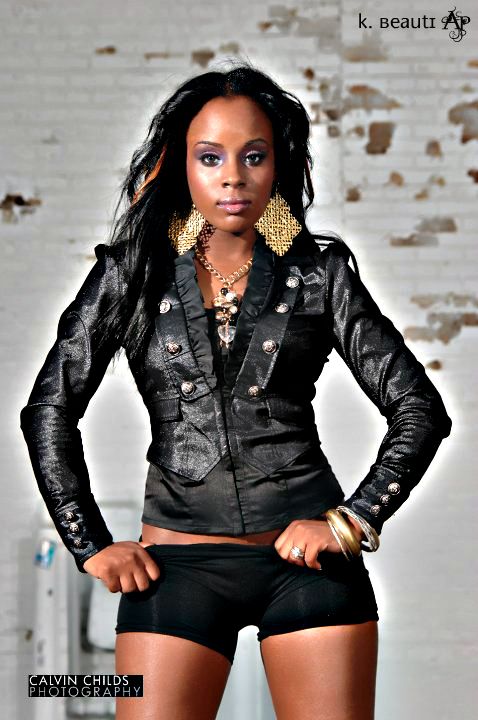 One of a kind, she has trouble comparing herself to anyone else, model or otherwise. "I'm me, K. Beauti, that's what separates me from the rest," she confidently. "I'm not one to compare." Her humble nature shows itself again when she talks of balancing her career and personal life. "Well I don't think I'm at the stage yet where I have to balance it out," she says honestly, "but I know it's something I will have to prepare for when the time comes." She further mentions the lack of changes to her life since becoming a model. "I'm pretty sure there will be some changes down the line."
Humble and earnest, however self-described as "kind, real, driven", the first thing to come to mind when sleep ends and her day starts is what can she get accomplished for the day. I like that. I like her. K. tells me that the worst that could happen on a date is her heel breaking. I can see much worse that could take place but that's my crazy life not hers. If we were friends and I made her mad and tried to get forgiveness by gift, she jokingly requests my credit card but then gets serious. "No really," she says, "just a true apology. I'm a very forgiving person."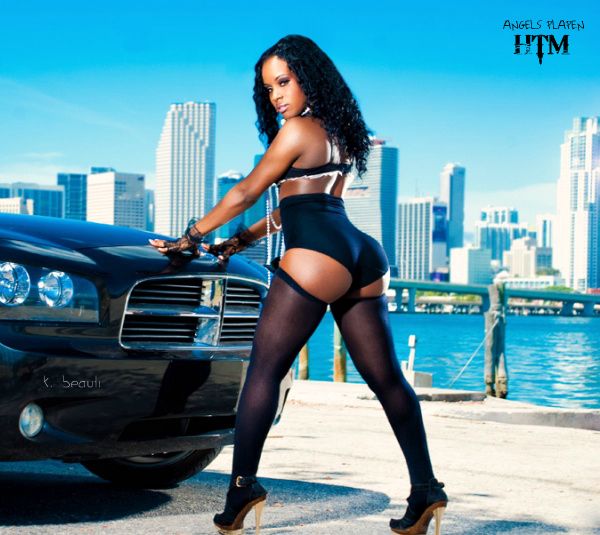 Seduced by her charm I ask what K. Beauti sees as the key to a good seduction. "Food is a good one" she replies. "You can put it on a plate and feed your mate," her sexy rhyme goes, "and put it on yourself and then serve." She has a love-hate relationship with her car and would love to see world peace conquer the globe. She describes an angel as "smart, kind and beautiful" and I'm thinking that's her. I've learned she's smart. She herself said she's kind and look at her photos… she's beautiful. I think we have a before us nothing short of an angel. A bit of a freaky angel but still an angel. Ha.